How best to sadness/rage/depression/disappointment/revenge shop.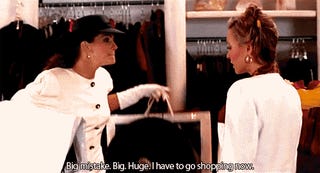 I got some bad news delivered in a pretty crappy way today. Should I:
Buy all the makeup from Sephora?
Buy all the face masks and bath products from Sephora?
Buy all the tights in all the colours from We Love Colours?
Buy all the nail polish collections that I do not own yet?
Buy more graphic novel trade paperbacks?
Buy something delightful from ThinkGeek?
Other?
Help me, GT, you're my only hope.