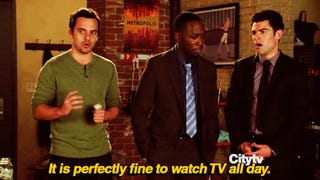 The World Cup is almost over (anguished sobs), I've watched almost all of Queer Eye, I'll soon be finished with the episodes of The Americans that are available on Amazon, and Halt and Catch Fire just isn't going to get me through the summer on its own. (I shouldn't have paused Hulu for the summer! I was only halfway through season 1 of ER.) I could make better use of my Filmstruck subscription but I want some TV damnit! Preferably fun TV.

I have Amazon and Netflix. Fleabag is on my list. Is The 100 any good?
Likes: Mozart in the Jungle, Parks and Rec, Brooklyn Nine Nine, Jane the Virgin,The Good Place, Dear White People, Pushing Daisies, Lovesick, On My Block, Catastrophe
Hit me up with your best recommendations please! I'd especially like to know about anything you think is overlooked/underrated. I think it was someone from Groupthink who once brought up Crashing, which I never would have heard about otherwise and thoroughly enjoyed.