Cause you should know.....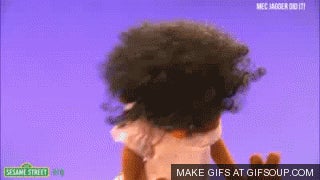 These pictures were taken 20 minutes ago. This is my hair in it's most non manipulated state with no products. Just because I wanted it all over the interwebz.....
---
Still wet....I'm not going outside for a while
---
---
Frizz loves me especially loves the top of my head...
---
Now the actual shape of my hair reminds me of Bowie's hair in The Labyrinth so no whole pictures. My hair shape is weird....Thank god for Braid-outs!
<——-Imagine this but replace Bowie with a Plus-sized Black female with kinky/coily/curly/actually don't know what to call it hair who really needs to unfuck the rest of her apartment......
---
This has been your "Afro is procrastinating" post. I'm making these and these as soon as I'm done with the procrastination.