You're weird. I'm weird. We're all weird. And studies show that if you're trying to write a good online dating profile, you should go ahead and just be your weird self.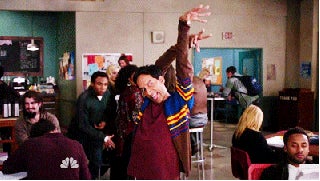 (Pictured: Don't be a hissing vampire. Just be yourself.)
Makes sense to me. Thinking back on my OKC adventures, I definitely was more likely to like or respond to someone who said something kind of weird but interesting in their profile than a laid-back, easygoing guy who likes hiking and exploring new places in the city. If I had a conversation with every totally acceptable but nondescript dude in the hopes that he would turn out to be worthwhile, I would have burned out really fast. (Of course, be too weird and people may write about you on the internet. ¯\_(ツ)_/¯ )
And, from the other side of things, do you really want to be with someone who doesn't accept—and even love—the weird side of you? I've realized that one of the things I love about being with the Boy is that I can be dorky around him, and it's been that way since not long after we started seeing each other.
So basically, stop trying to be the best version of yourself online. The best version of yourself is boring and you wouldn't want to date her either.