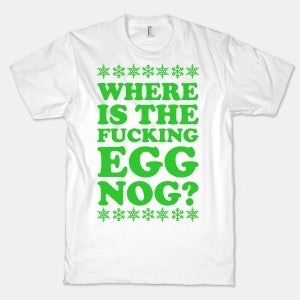 UncleKim and I had the Christmasiest of all Christmas arguments just now. My stepdad has a few things on his Amazon wishlist. UncleK swears stepdad wanted an attachment for a drill he has, and I was like, "ok, fine, I'll get it" (because Uncle K was being kind of adamant about it). So then I went to spend the remaining budget I'd set aside for him on what I know is a great couple of gifts. I mentioned to UncleK that Stepdad had this $50 Henckel's knife block on his list. UncleK was like "DONE! Buy it!" and I was like "Yeah, no, I've already got another couple of gifts in my cart that are so much better for him" (a KitchenAid cheeseboard and knife set for $40 plus this badass little cheese grater that I fucking LOVE for grating parmesan, and know stepdad would be like "Hmmm, I'm not sure about this.. OMG, this is the best gift ever" later).
UncleK hounded and hounded at me over "He never asks for anything, he actually asked for this!" and I gave in. But I'm resentful as HELL. Because my gifts were better.
tl;dr WISH LISTS RUIN GOOD GIFT GIVING.
ETA: Get that little cheese grater doohickey. It's the tits.