I hate storms. Haaaaaaate. HATE HATE HATE.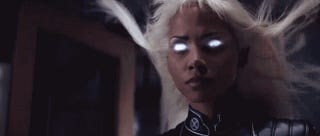 It's storming like a motherfucker right now. (My computer is not plugged in. Hooray battery power!) PollyDog definitely learned at least some of her storm anxiety from me, but I put her Thundershirt on, stuffed a dryer sheet between the fabric and her fur, and gave her Xanax. She's doing okay.
Cloud-to-ground lightning just said "hi" to me outside my window, and I'm pretty sure I made up some new swear words. Maybe I should take some Xanax. Jesus. I'm just trying to listen for the sirens.
(PS, I think Storm the X-Man is lame, too.)