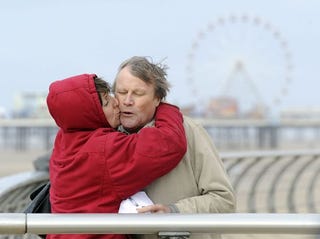 Last night ten million Brits watched the passing of a beloved character who has been on our screens for over fifteen years. Hayley Cropper passed away in her husband's arms after a short fight with severe pancreatic cancer. Look away now if you are sensitive to any of these topics.
ITV's Coronation Street has been on the air for 54 years this year. It started as part of the "kitchen sink" style of gritty, working-class realism, a reaction against the firmly upper- and middle-class media of the time. It's on tv most days of the week in the evenings and regularly attracts viewership approaching ten million. Given that the population of the UK is 63 million, these are huge figures.
So, Hayley walked onto our screens in the late 90s, intended to be a short term character. From the Guardian (excellent article, worth reading):
Roy and Hayley defy television's glamour axis. Hayley was introduced as the punchline to a clumsy gag, reflective of less enlightened Corrie times. In 1997, it was not right but it was OK to make primetime jokes at the expense of the British margins. The producers had decided that perennial middle-aged virgin and fusspot Roy was ready to seek companionship. Hayley was to be the first in a string of disastrous blind dates he had organised after posting a lonely hearts ad. The intended joke was that Hayley was a pre-op transsexual born Harold Patterson.
But Hayley was more than that.
It quickly, magically backfired, as the discreet chemistry between actors David Neilson and Julie Hesmondhalgh lit up a quaint corner of the screen.
The character of Hayley was groundbreaking at the time. Hell, she would still be groundbreaking today.
This was a time just prior to the parochial, then national recognition, of the gay village circumnavigating Canal Street as one of Manchester's social heartlands. It predated Channel 4's pivotal gay drama Queer as Folk by two years and transgendered Portuguese starlet Nadia Almada winning Big Brother by seven. It was eight years before civil partnerships became recognised in statute and Elton and David validated the legalese for suburbia. It is astonishing, in retrospect, to be reminded that Coronation Street's first LGBT character and foreground storyline was T.

The beauty of Hayley – and it's a testament to the brilliant actress who plays her – is that she has never been just a T. She is foremost, always, an H. Humanised at every corner by her soft delivery, generous ear, calm, maternal instinct and wonky half-smile, Hesmondhalgh has gifted Hayley a full three dimensions.
Roy and Hayley have been beloved by the nation ever since. They are gentle, kind, loyal, and with a decency we don't see on tv very often.
They aren't just a sweet couple, though. In addition to the trans storyline for Hayley, there have been other intense issues brought to the national forefront by these characters, including depression, fostering troubled teenage children, and most recently, late-stage pancreatic cancer and the right to die with dignity.
Last year, the actress who plays Hayley, Julie Hesmondhalgh, announced that she was leaving the show. The producers and writers had to find a way to write out her exit while staying true to the characters and as we all know, Hayley would never leave Roy. Never.
As the cancer was revealed to be more and more serious than previously thought, Hayley makes the decision to take her own life rather than continue suffering the treatments for such a terminal cancer. We've watched for weeks as the prognosis has gone from bad to worse and Roy and Hayley prepares for the end. Once again, Hayley has entered the national debate. The storyline has been used as a launching point for the papers to discuss right to die legislation and people are talking about the issue. Last night, Hayley chose the hour of her death. There could not have been a dry eye out there.
I think the thing that has always struck me about the character of Hayley is that so often in media the few trans characters that exist in the mainstream are never given happy storylines. But, here we have a happily married, middle-aged woman, a doting surrogate mother to the two woman who were her foster children and a self-sufficient co-owner of a small business. This is a happy life.
For once, the papers are unanimous about the achingly beautiful performances and writing, to the importance of the controversial right to die storyline, to the long-term impact of a leading trans character.
From the left-leaning Guardian, quoted above, and in the article Coronation Street and the right to die: why Hayley Cropper's story matters.
To the Mirror:
Roy and Hayley The Love Story: Why they were the greatest soap couple of all time

They're like every underdog you've ever met, swept into one perfectly unlikely soap couple. No-one could have created Roy and Hayley in a soap planning meeting - it had to happen organically, through two fine actors and some beautiful writing and an audience response that occurs only when those two things come together.
From the Independent (this article also really worth reading):
It's a testament to changing social attitudes and the power of soap operas to bring about the change that by last night, Hayley's birth gender had long since ceased to be relevant. In fact, it didn't warrant a single mention.

[...]

This episode could easily have been just a sentimental weep-a-thon, but subtle performances, particularly from David Neilson as Roy, made for a more emotionally complex drama.

Confirmed atheist Roy never did overcome his objections to Hayley's decision to take her own life when faced with terminal cancer, despite her efforts to comfort him. "I'll never leave you, Roy Cropper," she told him last night.
Even the right-leaning Telegraph:
The right to die remains a heated, emotional and complex topic which we will almost certainly never resolve. But with this storyline, handled with bravery and nuance, Coronation Street has made considerable progress in the debate.
The most important last word comes from the Guardian again, though:
In a soap world of self-interest and ambition, bed-hopping and backstabbing, she represents goodness. Hesmondhalgh leaves an open goal for producers, too. The next time they want a transgender character, perhaps they can employ a transgender actor to play them. There surely couldn't be a better way of honouring their accidental tumble into the 21st century with Hayley back then.