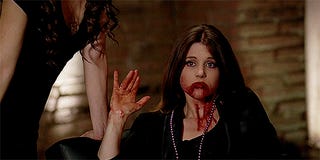 So, I'm mostly moved out (I have a few more things to purloin from the old space) and nowhere close to really unpacked or anything, although progress has been made. But I have no internet in my new place until two weeks from yesterday, so I am very sad. At the moment, I am using a neighbor's unsecured wireless connection. I feel so gangsta.
But, I'm feeling oh so very out of touch with much of muchness happening and new people posting and me without the ability to say hello, so, HELLO PEOPLE!
I am now off to get the Nanobots dinner, then rehearsal with Schroeder to settle things for Sunday, the Nanobots to bed.
Now, here is the EXTREMELY IMPORTANT QUESTION. I have one last, lonely bottle of wine left over from the beach and two cans of beer. Tonight will be the first night in the apartment with just me and the Nanobots and no mother of mine sleeping on the sofa. SHOULD I DRINK THE WINE AND/OR BEER ALL BY MYSELF TONIGHT? Or should I save it and use it in cooking later?
THIS IS IMPORTANT SHIT, FOLKS.