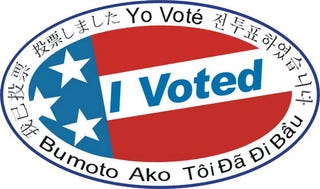 We have a June primary in the Golden State. I always vote by mail because it's the best way for me to remember to vote, cuz ADHD.
Well this time around life got busy and i forgot to send in my ballot. My hubs noticed it on the table on his way to work. Apparently under some sort of law employees are entitled to two hours to go and do their civic duty and vote. So i woke up from my lazy, snoozy slumber to a phone call from my hubs telling me that the's picking me up for lunch and then taking me to the polling station to drop off our ballots.
While i do think it's important to vote, there are some days where my sleep takes priority and besides the deadline wasn't until tomorrow! But nope, for my husband, not good enough. I think he said something about making sure our votes get counted, but i was half asleep so I may be wrong.
I guess i shouldn't be complaining too hard, cuz i did get a nice lunch with my partner out of it. But the whole way back he was sooper happy and cheerful about doing his civic duty. I just wanted to get back home and enjoy my Monday off.
So if you're in CA, make sure to vote so you can get your sticker. And in the meantime i'm going to get some more tea and get to work on things i've been avoiding.
Feel free to share your fun, weird cool stories about doing your civic duty!