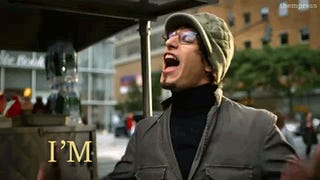 Really, I was fed up with a dysfunctional kitchen and pissy about the kitchen table being messy so I went on down to Bed, Bath and Beyond* and Target and unfucked some shit.
Got a new silverware drawer organizer. The old one was plastic and falling apart so BYE BYE.
Got new silverware. For some reason, all the silverware in the house has gone missing the last few months (I didn't ask, but I suspect my mom has been taking the forks to work and leaving them there). So huzzah! Organized silverware drawer!
I moved the silverware from the broken drawer to a functioning drawer. (Will figure out how to fix broken drawer)
I got a holder for utensils (like tongs and big spoons) so they aren't all willy-nilly in the kitchen drawers. They are now out where we can see them and easily get to them.
I got new kitchen curtains. The old ones were stained and gross and icky and terrible to look at.
I got drawer organizers for chopsticks and condiments! Now they aren't all over the kitchen table in random bowls and on trays.
I cleared everything but the fruit bowl off the kitchen table.
I got some new tongs (as the old ones were broken long ago) and an egg slicer (because it was $3.99 and I like egg on my salads...don't judge me)
I got a new shower curtain liner because the old one was mildewed. I threw out the old curtain as well because it was gross. I put up a new shower curtain that I got on a commercial (FOR FREE, SWAG). I used some old glass shower hooks I'd gotten from Target a few years ago.
I got a hanger with a bunch of hooks on it for my closet so I can FINALLY get rid of my belt and scarf Rat King ball that's been hiding in my closet
Lastly, I got a drawer organizer for my room so I have a place to put all my bits and bobs (random jewerly, nail clippers, tiny perfume samples, what little make-up I have, that sort of thing) away
Basically, I unfucked the kitchen. I am unreasonably proud of myself but I don't give a shit. I have a right to live in a nice, clean space. Tomorrow, we begin THE BEDROOM.
*Do not go to Bed, Bath and Beyond unless you want to buy all the things. I was seriously looking at a trash can that had a tiny recycle bin inside. I do not need one. I wanted one.