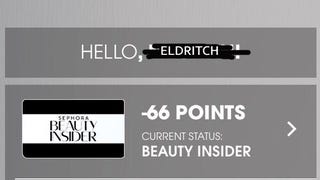 Who knew you could go NEGATIVE in your Sephora points?
I blame the Sephora insider post last this week. I bought so much new stuff, especially great new face wash. I'm $20 away from being a Sephora VIB thought I can't see what makes it so special.
I was run up by the manager of the store and when asked if I wanted to use my points, I said I was saving up for the 500 point black and white striped bag with the face mask. She said it was being discontinued and they only had one left that they were trying to get rid of. She gave it to me, which made my day, and now I'm hilariously negative. I never know when to cash in those points but I'm a sucker for black and white stripes.
I'm kind of sad that my 500pt gift didn't come with the free makeover card, but I feel weird about going back to ask about it since I got the gift early.