I did not start my day with the intention of ending up at Sephora lusting after every item in the store. That's where it went though.
Most of my Valentine's Day was hell. I spent a good 12 hours doing a long, arduous, draining task that shouldn't be my job or responsibility in the first place...but I'll complain about later. Anyway, I'd been up all night working (and chatting with one particularly awesome GTer) when suddenly, around 4 pm, I lost the last of the fucks I had to give.
I was like, "Fuck it, it's Valentine's Day. I may not have anyone, but I've got me. It's bath time." I did what would usually be the pre-date ritual—wash hair, shave all the bits that need to be shaved, get out smelling good. I considered doing more work and then was like, "FUCK IT FRIDAY!" I then proceeded to find something pink to wear (the cardigan is actually a super bright pink, but the exposure or saturation from the poor lighting makes it look red) and started playing with some of the ideas other GTers had given me. I tried adding some purple in to make my eyes pop. I didn't have a nude or white eye liner, so I used some NYX eyeshadow base and white eyeshadow on my water line to get my eyes to pop... I don't know. I just had some fun with it, cause isn't that what makeup should be about?
Once I got my face done, it came time for the lips. This is where I always get nervous. I wanted to go with something more daring and bright, to match my sweater and the attitude I'm trying to embrace. I dabbled around a bit with the colors I have, then suddenly, I was on my way to Sephora!
When I got there, I asked them to pull out their magic "Color IQ" machine. They scanned me, and shockingly, they actually carried makeup pale enough for this glow-in-the-dark redhead! I learned that GT was pretty darn close on their guesses about me. My number was 2Y04, which apparently means I'm warm! Or possibly a little warm and a little neutral? I dunno, the guy doing it didn't tell me much; he just went off to find foundations for me to experiment with. Thanks to GTer's suggestions, I was able to ask him to see if he had any Urban Decay Naked foundations, and sure enough, that's what I got! It looked great! At that point, I got my courage up to ask about some red lipstick...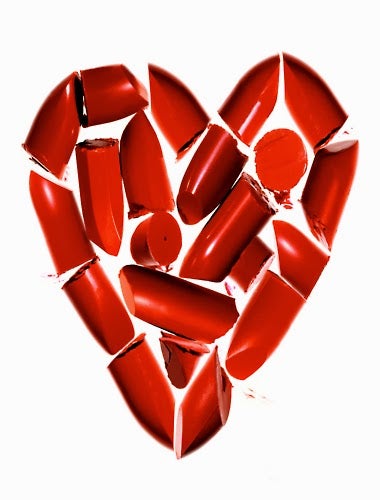 The attendant was quite good at pulling colors he thought would complement my skin tone. (At least I think he was; honestly, I wouldn't really know one way or another if he happened to be awful.) I ended up settling on the second lipstick I tried—Hourglass's Icon. It's quite a bit bolder than I would've chosen for myself, but that was kind of the point—to break out of my comfort zone, change my look up a little bit.
So what do you guys think? Does it suit me, or do I look like an escaped circus clown/poorly made-up hooker?
Anyway, I played around with quite a few more lipsticks, took down some names, then inquired about the Naked palettes. The guy who had been working on me said the first palette would probably work best for me; however, given how many GTers had said I'd probably do best with Naked 2, I found another sales associate to ask. She confirmed that Naked 2 would flatter me most. In other words, GT is basically always right. I also tried out Orgasm, and apparently it works on me!
After a bit more browsing, I bought the Red Lipstick and headed home...where I promptly got on the websites of Sephora, Urban Decay, Too Faced, and Tarte. There were...purchases. (Very purchases. Such makeup. Wow.) I'm actually kind of embarrassed by how much I got, but there were SALES and and and I basically had a huge gift card to spend on makeup.
I ended up getting at least some of the basics: a good foundation (Urban Decay Weightless Ultra Definition Liquid Makeup in 1.0), a powder with enough coverage for me to go without foundation (Make Up For Ever Duo Mat Powder Foundation in 200-Beige Opalescent), several palettes, a good moisturizer (Clinique Dramatically Different Moisturizing Lotion+), a set of eyeliners... The list goes on. I might post pictures once they all come in.
Anyway, thank you to all the GTers who helped me find my way in the land of non-crap makeup! It's a beautiful and magical place. I think I will like it here...
(In a tangentially related note, I also got to wear my kick ass velour Chuck Taylors with bright pink edging today because Valentine's Day! Always awesome!)