And I want to talk about it! I took forever to get around to starting it, but once I did, I watched the whole thing in about a week. Spoilers ahead.
Partly, I want to say that Rosa is the fucking coolest (although also a total psycho), and I LOVED how she went out. "Always so rude, that one." Fantastic.
But mostly, I want to say that I'm legitimately worried about Nicky. She's by far my favorite character on the show, and reminds me so much of my high school friends.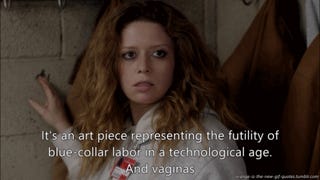 The way they left things with her in the last episode... and she was trying to do a good thing! I've gotten totally emotionally invested in her.