EDIT: I should have done this immediately, but I just emailed some of my old journalism professors to see what they think.
So, I got offered a job this morning, which should make me feel like this: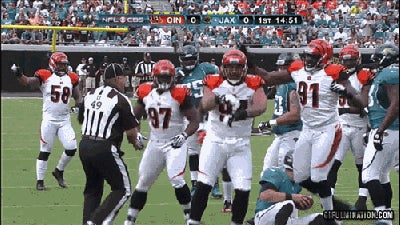 But instead, I feel like this: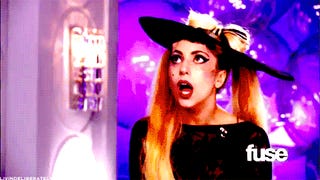 I honestly don't know what to do because there are so many factors in play here. Maybe some of you smart and lovely people can help me with my pros and cons list. I'm seriously stuck here. (Not to mention, my boss didn't show up to work today — which means I have to wait until tomorrow to tell him, which means I have other job on hold for more time and that's not good.)
I got my MA in Journalism this past May. For the last three years, I've been working FT in a position that's actually related to my degree (!!) as an editor for a major sports website/network. I moved up from editorial assistant to general homepage/copy editor and have been doing general journalism-type things ever since. On occasion, I've also been allowed to write pieces for the site, which is nice because — you know, eyeballs on your byline.
There are a lot of pros to my current job, not including: It's ACTUALLY journalism and I work in a newsroom; I get free lunch delivered every day; they're pretty flexible with working from home; they're flexible with vacation time; I'm very rarely bothered or overly-supervised; people trust my judgement and I'm generally respected here; the pay isn't bonkers, but it's decent. When I start/end work late, my commute is 20 mins tops. Looks very good on a resume because it's a major company and a solid newsroom role.
The cons? I live on the Eastside of LA and my job is on the Westside — which means, if I'm scheduled for "normal" hours, it takes an hour (or more) to get to/from work. This leads me to another con — the job has a "journalism" schedule. I work Sun-Thurs and my hours are usually 12-9pm or 1-10pm depending. I rarely work an 8-5 or 10-7. It doesn't look like a raise is in my cards, and the company has a bad track record of hiring from the outside instead of promoting from within. Did I mention it's a sports website? And my MA was in Arts Journalism (specifically popular music reporting)? I'm the only female in the editorial department. I don't really have "Work friends" because everyone in my department is a married 40+ year old dude — and they're ALL sports nuts. (Not a huge con, but still.) I feel like the job doesn't pay me what I should be making. Layoffs are possible; they happened in the past. I have to work holidays.
Which leads me to the new job. It's funny, because it's at my alma mater. I went to the same school for undergrad and grad, so I'm wondering if I'm hurting myself by having way too much [NAME OF SCHOOL] on my resume. Am I potentially shutting myself off from new experiences?
Anyway, here's the breakdown of New Job...
The pros: Much shorter commute; it's on the same side of town, just a few miles south. Probably will take me no more than 30 mins to get home, even at rush hour. Normal M-F schedule with normal working hours — which means my social life will be restored and my boyfriend doesn't have to feel obligated to stay up until 11pm waiting for me to get home. The school is known for being a good employer. Free tuition if I feel compelled to get another degree from the school. (It might even cover the costs I'm incurring while I finish my thesis.) It's actually dealing with "the arts" — it's the website editor for the university's music school. I'll be supervising student and freelance writers. I worked under my supervisor as a work study student during my undergrad years, so I already know I won't have a crappy boss. Holidays are vacation days! I'd qualify for overtime.
The cons: It's not exactly a journalism job. It does involve some good resume items, like managing all social media for the school, coordinating with writers, developing a content budget and schedule — but it's definitely not writing and reporting and working with breaking news. I'm worried I might be killing my journalism career by taking this parallel move. A lot of website posting and website management, which I'm good at — but again, where's the journalism hook? (Thinking about future opportunities here.) Going back to where I went to college seems weird. Have to pay $400 a semester to park on campus.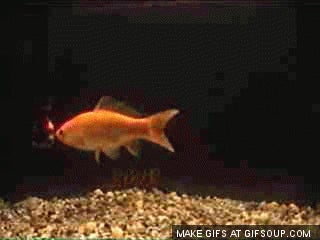 But most importantly? The New Job isn't offering the kind of money I would need to leave journalism. Speaking in total arbitrary, made up numbers that do not correlate to any salary: I told them I needed 500 goldfish minimum to consider the job, and they countered with an hourly rate that works out to 480 goldfish because "it's pretty close to 500 goldfish anyway." 480 goldfish isn't 500 goldfish — even if 480 goldfish is slightly more than the goldfish my job gives me now. When I knew Current Job wouldn't give me the salary I wanted, I made 500 goldfish my personal minimum goal for the next job I took.
New Job says 480 goldfish is close to the very maximum of what they can pay. I crunched the numbers, compared benefits, looked at my expenses — and I really can't afford to take 480 goldfish and be OK with it. It would still leave me in a paycheck-to-paycheck situation. I don't want that anymore. If I got an hourly rate that worked out to 510 goldfish, I would be OK with forking over the parking permit money and the loss in a journalism position that New Job would bring. I need to figure out how to present all this information to convince New Job to give me 510 goldfish.
Sorry for the incoherent list-type bullshit. I'm weighing out these options as I type them. Ugh.