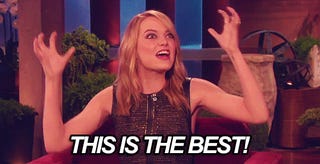 It's awesome. Big and squashy, but firm enough that it doesn't kill my back. Lots of big cushions, too :) Best of all, it was $15!!! So now I can use the money I was going to use for a couch to get a decent rug (the old one is a right mess)!
Our old one was a second hand leather couch with a recliner on each end... both of which were broken so that sitting on the couch was more like sitting in the couch. No way to stretch out or lie down, really. It was somewhat beat down but still nice when we got it, but 4 years of my boys... poor old thing just couldn't take it!
Other-Husband took apart the old one, and he and our 16 year old hauled the pieces out to the dumpster, while Husband and I went to go pick up the new couch. There were, naturally, complications involved in getting it here, but thanks to our buddy with a pickup truck (it was juuuust too big to fit into the suburban) it's here! It has a slight aroma of old barn, due to being in storage for awhile, but some Febreeze will sort that out.
Tomorrow, there will be much rearranging of furniture and sweeping of floors. I swear, there were enough crumbs under that old couch to support a colony of ants for 6 months. #squalor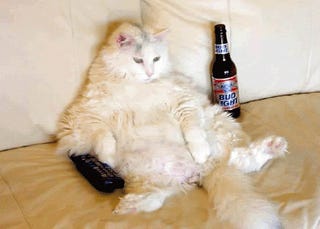 This cat is an accurate representation of what I will look like once everything's all moved around.
I have a comfy new couch!