So I thought I'd share what I got. I got a toner from Mario Badescu (Glycolic Acid Toner) because I've heard good things about the line from my mom, and I thought it would be a good intro to his products. Only thing is that I was dumb and didn't fully read the back where it says that it's not recommended for "acne-erupted" skin, haha. So I guess I'll just have to keep it away from active acne spots.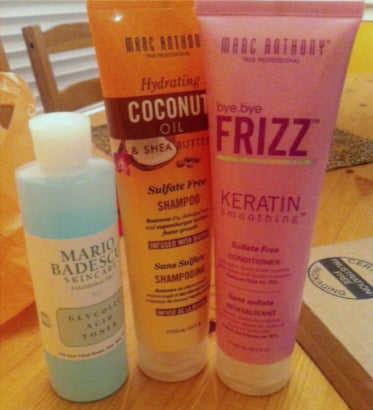 I also got some shampoo and conditioner by Marc Anthony because I've also heard/read positive things, and it was buy-one get-one half-off. Hopefully they're good. Not sure what to expect.
And then I was like, "Well I'm here, so I might as well buy something that's ACTUALLY fun." The picture I took doesn't show the true colors at all, so I didn't include it. I got a NYX butter gloss in Peach Cobbler because it's this awesome red-orange color, and I've been really digging orange and coral lipsticks/glosses lately. I also got a matte NYX lipstick in a purple shade called Aria. I love purple lipstick, and I prefer matte lipsticks to other finishes, so I'm excited to give this one a try. This purchase made me happy.
Oh, and I really wanted to buy some Revlon Colorburst Matte Balms because they look absolutely BANGIN, but I didn't want to spend anymore, so I'll buy them for a lower price at Target soon.
Anyway. YAY FOR BUYING TOILETRIES AND MAKEUP!