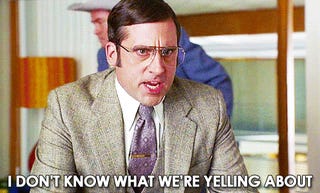 I'm down here because I have time off because "the holidays" and I want to spend as much time as I can with my Grammy before she succumbs to her cancer.
Other than that, I'm perfectly content never coming down here ever, especially at that magical time of year when WHY CAN'T WE ALL JUST SPEND TIME TOGETHER DURING "THE HOLIDAYS" AS A FAMILY AND GET ALONG BECAUSE WE TOTALLY GET ALONG THE OTHER 364 DAYS A YEAR WHY CAN'T WE BE A NORMAL FAMILY BECAUSE NO OTHER FAMILIES FIGHT DURING "THE HOLIDAYS"
Did I mention that we're not even religious? This holiday has NO significance to us whatsoever except for the fact that society dictates that Xmas = mandatory family time.
Only...two more weeks til I'm back in New York...HULP!