I have adopted one of Mr. Agador Spartacus's shirts. I did not adopt it because it is his shirt or that it smells like him. I adopted it because it is ridiculously soft.
I'm one of those weird adults who has comfort objects. I still have a bunch of my stuffed animals, and for the longest time I had a pair of old pajama pants that I would snuggle with because they too were ridiculously soft. I just never grew out of giving it up.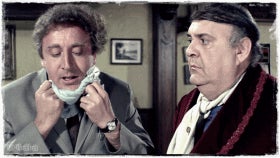 I tried, a couple years ago. I successfully gave it up and was able to sleep the night without them. But then Mr. Agador Spartacus came along. We started dating long distance, so when he came to visit he'd leave a shirt behind to sleep with so I could have him near me.
But one day, he gave me this soft white shirt. I literally have not given it up since. I have slept with it for two years now, and it has replaced the old pair of pajamas I used to snuggle with. I can no longer sleep without it. I even named it "comfort". I thought I grew out of this kind of behavior. But apparently not.
It's like a stress relief. When I've had a bad day I curl up in bed with it and snuggle with it. It makes me feel better. Is this a bad thing to have an adult? Am I alone in having a comfort object that I am dependent on at the age of 22?