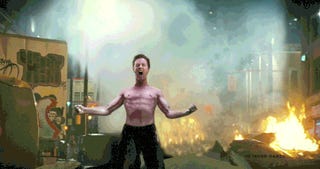 I spent 9 summers in my house without an air conditioner. I was young & able to sleep through the sweat & hang around in my underpants fanning myself. It just didn't occur to me to buy one. Until it did!!
One day I was like, fuckit, I'm gonna buy an air conditioner, window unit variety. So I researched & got the right amount of BTUs for my downstairs. I utterly FAILED to think about how much it would weigh. I had to beg & bribe for years to get my nephews over here to help me put it in, then beg & bribe them to help me take it out again when the weather got cold. (My house is really old & small & built with ship crates, ball bearings, tape & driftwood. Elbow grease, probably.)
This went on for years. At one point, the begging & bribing were still not working & I went to Sears with the sole intention of buying an air conditioner I could lift by myself. That was the only criteria :) Mission accomplished.
That little machine has been working its magic for a long time; it never gets "cool" in here, but it gets way more comfortable than outside, for sure. One 5000 BTU trying to cool my whole downstairs, which is 4 rooms: bedroom, living room/kitchen, dining room & bathroom; around 750 square feet. But this summer has been brutal.
So! I knew I had the Big Air Conditioner. I measured it, then measured a different window than where it used to live. Did my math problems & figured out that it would fit. It was worth a try, right?
I moved the Little One to a different window because I wanted to put the Big One in its place. I cleared a path from the closet where the big one lives. Put my coffee table in front of it. Then bork~lifted the big one off the ground about 16 inches up onto the coffee table & slid the whole contraption thing to the window where I wanted the big one to live. Bork~lifted it once more about 12 inches & slid it into the window, bracing it with one arm and a thigh.
MY PLAN WORKED!!! I DID IT!!! GGAAAAAAHHH! I was so happy! (Wally was not happy. He worry~warted the whole time. Mookie slept through the whole thing.)
So now, 2 hours later, I'm comfortable in my home & getting ready to test new biscuit recipes. IN MY OVEN, which I am opposed in principle to turning on during the summer. The biscuits were the main reason I needed to take action; I got accepted into a juried market after applying 3 times & failing. And after having lost 2 months of baking & farmer's market dates to a bite on my right hand, I'm feeling the urgency of having to get back to work on it. My house was simply too hot for baking.
Mmmmm, bakey~times are imminent :) Have you "HULKED" something lately, or ever? xo