Um. Whut.
Greyed comment on a thread in Jezebel. Not happening anywhere else.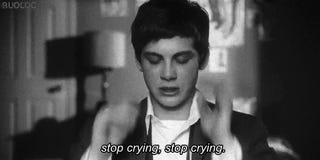 Kinja—why is you mad at me? I JUST WANT TO LOVE YOU!!!!!!!!!!!!!!!!!
I HAVE BEEN SO GOOD TO KINJA!!! WHY DOES KINJA DO THIS TO ME!!!!

When everyone said, no Burt, leave Kinja. Kinja has issues. Big ones. I said NO! I don't abandon my commenting platforms!
Kinja, I called you tonight. Did you get my voicemails? I sent you a few text messages to explain what I said in the voicemails in case you didn't check your voicemail.
Kinja. If it's something I did—just let me know. Maybe we could talk. Over comments on I09. NO PRESSURE. Promise.
Just. Reach out to me. Just. Talk to me.