For real, there are spoilers here below. >:-< Don't give me any of your UGH YOU RUINED MY LIFE BURT! I DID NOT SEE THIS MOVIE YET! Because I am telling you now—spoilers abound.
These thoughts are mostly just a systematic pattern of sighs. I have translated them into something resembling words.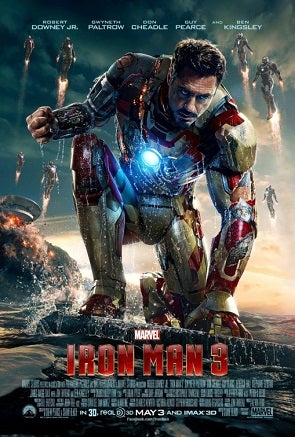 So, here's the thing. This movie takes place in the near future after the Avengers movie. You know, that movie where a bunch of fucking super evil aliens from another dimension literally wiped out half of Manhattan.
Do you think after all that, anyone is going to give a flying good shit that some douchey weirdo with a terrible fake accent in a robe threatening to blow up a few places here and there around the globe? Once you've seen FUCKING FIVE MILE LONG METAL ALIEN GOD DEMON LIZARDS FLY THROUGH THE SKY, do you honestly think anyone in the world is going to be like 'oh no, this guy blew up some tourist stop in Hollywood?
Maybe that's why S.H.I.E.L.D. didn't send anybody to help Tony Stark in this one. He was all 'HALP guys, there's a guy who is walking around dressed like a character from Tekken, giving very obscure speeches about cookies and he shot some shitty corrupt oil tycoon dude.'
And all the S.H.I.E.L.D. people were like 'THAT'S COOL MAN, WE HAVE FUCKING ALIENS WHO CAN'T DIE AND ARE INVINCIBLE TO ALL WEAPONS COMING THROUGH PORTALS TO ALTERNATE DIMENSIONS. THEY WANT TO EAT OUR SOULS AND CAN WIPE OUT CITIES IN THE BLINK OF AN EYE. BUT YEAH GOOD LUCK WITH SOME WEIRD OLD GUY, YOU ONLY HAVE 40 FUCKING IRON MAN ROBOTS AND SHIT.'
Seriously, the whole time I was like 'yeah, kill the president, whatevs, guy seems like a tool, IS SOMEONE GOING TO BRING UP THE FUCKING ALIENS OR WHAT?'
Anyway, thanks for playing along with me and pretending not to notice I'm talking about a movie that came out six months ago that everyone already talked about like NBD, Burt. It's OK. Just keep randomly talking about movies that are a million years old. Whatevs. Keep doin' your thing.'
Next up, I will be watching this hot new film I just discovered called 'Citizen Kane.' I hear it's hella dramatic.