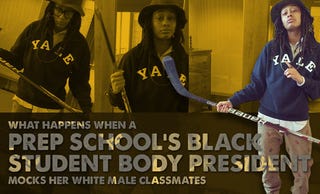 This young woman rocks and I wish more people her age had the courage to do what she did. And remain unapologetic. It was a strategic move that has placed her and her causes in the public eye. We're talking about her now.
In the accompanying article, the writer describes a pattern of escalating harassment, largely at the hand of anonymous students. There were even pictures emailed that showed her partially dressed, in her own room. That she didn't pose for. Let that sink in.
This is about racism, but this picture fails to depict hers. She wasn't mocking white people. She was mocking her attackers, who were white. She didn't mock their whiteness (which would be racist), she was mocking their unoriginality, their image, their markers. She mocked what they represented.
It is in response to the racist and sexist actions that she was subjected to. Students complained about her doing the Black Power salute in her yearbook picture. And there's discussion about her racism on the mainpage?
Please. Racist, privileged, and entitled white boys harassed her and the school showed little desire in helping her discover the perpetrators. So she took matters into her own hands. In an non-violent, intelligent, skillfully executed manner.
The only thing I can do to celebrate this brave warrior is provide my personal anthem/ theme song. It rings in my ears every time someone steps to me in battle. Let it lead you to many more victories.
#Don'tStartNone #Won'tBeNone