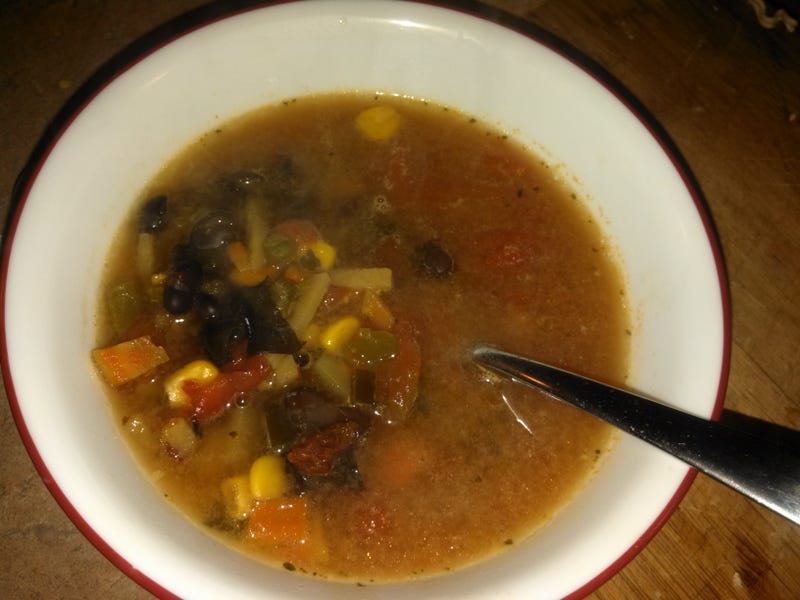 It is made almost entirely of dehydrated and canned things, and it is delicious. Thank you, GT, for sending so many good things for us! It meant so much to me while I was making it, I think I'm gonna call this Community Soup.
I started with 2 boxes of chicken stock from Aldi (gf!), added 2 handfuls of the dried veggie soup mix, a handful of dried corn, a handful of dried potato shreds, a small handful of dried minced onion, a small handful of dried parsley, a good shake of red pepper flakes, a chicken bouillon cube and poultry seasoning (such a great blend), and assorted other herbs and spices. I added 2 minced cloves of garlic, and a bit of water, and let it cook.
Tasted it and nearly blew my tongue off. Holy shit, was it spicy! It wasn't thick enough for our tastes, either. So I added a splash of cider vinegar and another handful of dried potatoes. Then I added a drained can of black beans, and a jar of home-canned tomatoes (I'm gonna miss those...) and about a half a can of coconut milk. The spice toned down, the flavours popped, and it's just spicy enough to clear the sinuses!