Y'all wanted pictures of what I sew, so here are a few, I was busy this weekend!

I've wanted to use this green chiffon for awhile, and finally I make myself this a-line flowy skirt. It's overlayed on a jersey-polyester lining (that's the waistband) so that I don't have to wear a slip underneath
This next one is my pride and joy - I made one a few years ago for a friend and finally made my own. It's nice enough that people have asked me to make them their own, so I'm thinking of starting a small side business making skirts. It's a very good skirt for Swing Dancing because 1) it's forgiving fit wise because of the wrap (if you gain or lose weight) and 2) you're legs aren't constrained even though it's fitted.

Here's a picture of my friend's (lower half) wearing hers: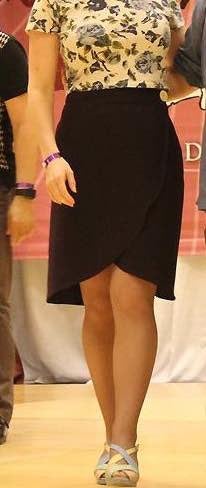 However, making skirts for a side business was when I was NOT taking a break from swing dancing, so we'll see how that goes - since Swing Dancers would have been a primary target. I am making a skirt for an international instructor (she's one of the good ones - I worked with her on one of the events (a few months ago) that also burned me out and when I broke down on her during a break, she told me of her similar experiences and how she's had to walk away from a bunch of projects as well). She is totally understanding of why I'm taking a break, but her wanting a skirt gave me the motivation to finally make MYSELF one so that I could figure out and get a decent starting pattern to make more.
Yay projects! I'll be getting pictures taken in these, especially the red skirt.