There's practically nobody in my office today. My boss (and half the office) has been at a conference all week, my cubicle mate/the person I work most closely with is out, a bunch of people, including the executive director, are on vacation... It's so dead here, and it's not inspiring me to get much work done.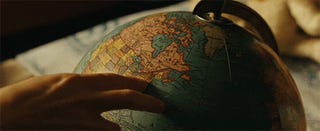 Meanwhile, it occurred to me that I don't have any Thanksgiving responsibilities this year, and could use that time to go somewhere. If I fly out on Thursday there are some super cheap flights. There's Santigao, Chile for just under $500 and New Orleans for about $280. I've been saving up for a trip to Europe in March, but I think I could still swing a long vacation weekend, especially since I could essentially take a 6 day vacation while only using up 2 of my vacation days.

People who have been to Chile, would 4-5 days in Santiago be enough? I've been dying to go, but I wonder if that would be too rushed. Anybody else have ideas for a good long weekend trip? I'd be going alone, so I'm looking for places with a lot to see and do.