So mr.monster and I moved into a house with one of his co-workers. She owns a fully furnished house, and the rent is cheap and our doggie is allowed :) While we were moving from our duplex rental into her house we discovered that we had bedbugs. A small infestation, but still.
Anyhow, we had to wash and dry everything at the laundromat just in case the bedbugs were in our clothes and bedding. I had to wash and dry my queen sized wool duvet. We didn't know at the time that we only had to dry everything to kill bedbugs... :( Anyhow, it shrunk, and is now a double sized duvet, so I need to buy a new one.
The wool duvet was the first duvet I have ever had (always had quilts growing up). We bought it because my husband sweats like a fiend at night and we heard that wool wicks away moisture. We really loved it.
Now that we are in the market for a new one I am wondering what kind of natural fiber duvet we should purchase:
1) Wool 2) Feather 3) Down 4) Cotton 5) Silk
Which do you guys prefer and why?!?!?!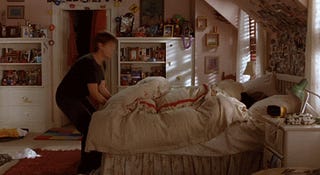 ETA: Here is some advice from someone who got bedbugs. When you move into a new place sprinkle diatomaceous earth everywhere, in the nooks and crannies, all around your baseboard all over your floor, EVERYWHERE. Also buy bedbug protector things for the feet of your furniture (bed, couches, upholstered chairs). Better safe than sorry. Trust me.