But I want it so, so bad. Can I really have TARDIS cakes for the 50th anniversary show? Or maybe shortbreads?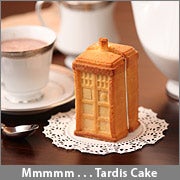 http://www.thinkgeek.com/product/13d7/?…
ETA: Any bakers who use silicone products out there? Could I bake mini cookies in this cheaper silicone ice cube tray? that way I can have Daleks and a TARDIS. It says "food safe," but nothing about heat.