just to remind myself why I hang out at GT. I think I won the worst FB lottery.
In no particular order I have:
Conservative friends and relations who intersect with antivaxers
Hippy dippy friends and relations who intersect with antivaxers
Creative types who intersect with antivaxers. In fact, this was a response I got for posting this:
These colors and vibrations do not help bring about good change My unique experience and commitment to the betterment of the world validates my desire to dismiss you.
My god. You were always a crap lyricist. Don't let the door hit you on the way out.
I posted about makeup and was informed by someone young enough to have watched Spongebob as they grew up that, "Makeup is bullshit." I don't know what say to her. I want to encourage her in thinking critically and Feminist thought, and let her know that there's more important things out there than makeup and body hair.
I also want to explain that there are many reasons to wear makeup, and not least among them is the ability put colors on your face like a three year-old.* I want to post this in reply too:
God, I must have been annoying at that age too. All very firm convictions for a black and white world, and no ability to express myself.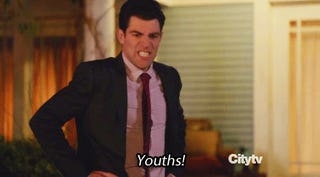 *Also this performance of femininity allows me to get away not conforming in other, more important ways.