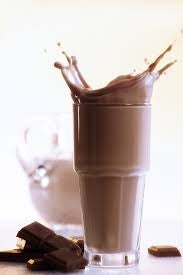 I haven't had it in over 2 years but I love it. Now I can't drink milk and there is just no substitute. I'd tried Lactaid and I still can't drink enough to fulfill these cravings. I go through these milk cravings a couple times a year where I just want all the milk. I have had this since long before I had lactose intolerance and indulging would make me feel sooooooooooo good, physically and emotionally. Due to the seasonality of these cravings, I suspect it is a nutrient based craving but I have found no substitute.
On top of that, I started lifting again and I've always loved chocolate milk after a good workout (sorry smoothies, you got nothing on chocolate milk). I think it is hilarious that studies are now coming out saying it is perfect for post workout. I've been doing that for 20 years!

I have tried smoothies, lactaid, kefir, nut milks, coconut milk, etc and nothing meets the mouth feel or fulfills the craving.

But, at least I can still have a little cheese with this whine.
PS: no I'm not pregnant. These have happened 2-4x per year since I hit puberty.