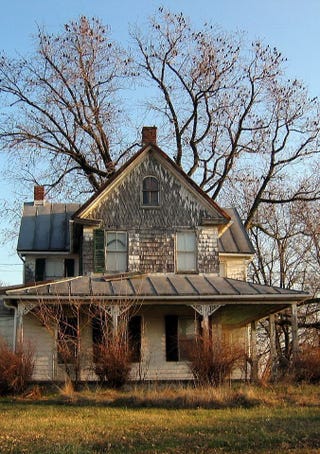 I have the soul of a homeowner, but the budget of a renter. I just spent hours budgeting, realistically, what it would take to do everything that I want to to my dream house. You see, my dream house is abandoned, and not currently for sale. But I have a vision. I look through the greenery and see a storybook house, tucked among the trees, with a lovely little porch and sweet bay windows. That's not how it looks now, of course, but it's what I see. (The photo isn't my dream house, but it has a lot of similarities.)

Now that I've figured out how much it will take to fix it up and make it energy efficient and not burn down, I get to sort through the grants and tax credits and special loans, while waiting for my credit to improve. Have you ever tried to figure out what loan/grant things are really trying to say? because I clearly am out of practice.

I've decided that my Dream House That Is Not For Sale will cost more to bring it up to snuff than I want to pay for it in the first place. The 1-car garage/shed fell down two winters ago. There's a massive tree that was felled by a recent storm in the front yard. I think it's possible to make them an offer, since it's all just sitting there, rotting away. I want to save this house from time. I have the resources and access to knowledge. I know I can fix it.

For now, I get to wait. Waiting sucks. But things will be much better if I do. I just have to hope that the house stays standing, and doesn't get too bad without me. I've never been in love with a person, but I think I just might be in love with this house.