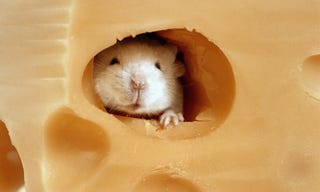 this could be a great or horrible thread
Cheddar: Louis CK-Sharp, versatile, good on sandwiches
Gruyere: Salma Hayek: Complex—first fruity and then smokey and nutty, Good with fruit jams.
Brie: Sandra Bullock— Soft, melty, mild, good with crackers
Parmigiano-Reggiano: Kevin Spacey: Intense, Versatile, Good on Pasta
Manchego: Don Cheedle: Salty and Rich, Good as is, but maybe with a little Quince
Roquefort: Russel Brand Nutty, Complex, Good with honey
Swiss: Gwyneth Paltrow: A total jerk, Mild tasting and has holes. Good with sandwiches.
PS. Behold the power of cheese
ADD YOUR OWN!