I'm gettin' Groopdrunk, y'all! I went down to the Trader Joe's and got me TWO bottles of red wine, both suggestions from you lovely fellow Groopdrinkers and both under $10. I'm currently drinking the Tribunal pictured below:
---
---
Suggested by LuckyMc44 and purchased literally because of the unicorn lawyer on the label, it has turned out to be very delicious. That photo also features an unusable chair in the living room (but there's only two of us here so fuck it), an art deco lamp my mom got from Goodwill for $3 AND for those who have already spotted it, yes that is a genuine Olivia Pope wine glass from Crate and Barrel.
---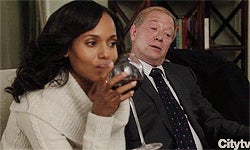 ---
Olivia enjoys her wine in that giant glass between fashion moments. I enjoy my wine in my giant glass after eating Trader Joe's black bean and jack cheese burritos. NO SHAME.
I also got the Dearly Beloved wine because that label is BOSS and I've been meaning to try it. It was suggested by Smithwellette who is obviously brilliant.
---
---
Gonebaby as promised I did look for your boxed wine but they weren't selling it at my Trader Joe's. TILL NEXT TIME!!
Now that I'm good and liquored up: GT, LET'S GET WEIRD!