Which removable wallpaper do I go with?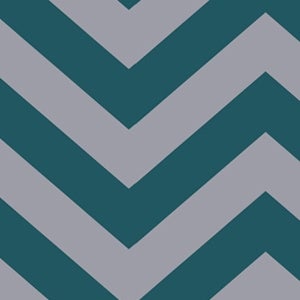 ($157 plus shipping for the amount I need) or this
($250 plus shipping for what I need)
For reference, my ottomans are both this teal pattern right now:
Also, I took apart my red Ikea bookshelves so that I could either decoupage or wallpaper them, so I've been cleaning them all off thoroughly and the process is so gross. But I'm so close to making this place visitor friendly!
How's your Sunday going so far?
Update: I'm going with the first wallpaper company because a) the second company charges $10 for a sample tile; b) they were going to charge me 13 freaking dollars just to ground ship that sample to me; and c) the sample I ordered from the first company ($5.95) did not charge me shipping, and mentions a 10% discount upon completing an order after trying out the sample.
I'll balance things out best I can with my furniture, after all Amazon has this contact paper: