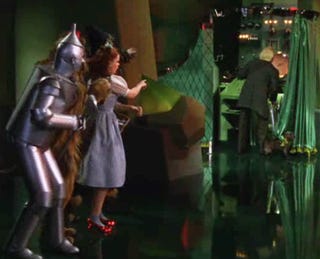 like how the Gawker Media office is set up, Erin Gloria "MoGlo" Ryan just answered my comment about that in the Desk Rage article:
"Big long tables in a huge open room with high exposed brick ceilings and low lighting. Jezebel sits on one long table, in the middle toward a half wall. On the half wall are 3 large screens that are usually playing cable news on mute. On the wall next to it are more screens, each of which displays how each site's homepage currently appears. There are 3 long "aisles" and everyone at each blog is clustered together. No cubes. Glass walled conference rooms around the perimeter. Very movie set-looking.
Gawker table often erupts into simultaneous raucous laughter that makes everyone at the Jezebel table think that they're laughing at us. They probably are. Oh my god they're doing it again."
I've never worked an office job, but I don't think I'd like that set-up very much. I have personal space issues, and I have a hard time completing tasks, especially writing or calling, when I think people are watching me.