Hey GT, how's your Friday? I hope it's good. I spent 3 hours at the salon and now my hair is this color but shorter, and it looks fabulous. And I bought a shit ton of sweaters and tops at Kohl's so my winter wardrobe refresh is complete. But I'm not here to tell you about my amazing day off work. I'm here to tell you about last night.
So, my husband and I have reinstituted sexy times, and so how I care for and groom my pubic hairs has suddenly become important again, because I have a visitor now on the regular. My absolute favorite way to handle the bush is to trim the hair off the outer lips with one of those personal groomer/shaver things, and then maybe trim the magic triangle with scissors for length but otherwise let it be hairy. This is for many reasons: my mons pubis looks dumb completely bald, but hairless lips feels AMAZING when things are being put into and taken out of my vagina. Shaving with a razor makes for itchy stubble when it grows back, and I have never had a bikini wax, but NO THANK YOU PLS. So shaving with a personal trimmer type deal is the best way to get rid of the hair painlessly without itchy after affects. So I get my husband's beard trimmer out of the cabinet (because it's perfect for this job), and go to fire it up...and it's not charged at all. So I pull out the cord to plug it in, and somehow in the motion to do this, I drop his trimmer on the bathroom floor and break the little plastic guard on top into little pieces.Whoops!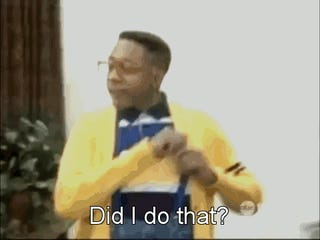 So, I owe my husband a new beard trimmer. Oh well. So I grab my little piece of shit trimmer that I use on my weird face hairs that can do for pubes in a pinch...and it's not charged either. D'OH! That one gets plugged in without incident. So I dig out of the bottom of the drawer a nose hair/eye brow trimmer that probably should not be used on thick, rich ladygarden hair. But I'm despirate and hairy. It half heartedly tries its best to remove the hair, but it is just not the little trimmer for this big job. So I rinse it off in the sink and I'm shaking it dry...when I drop this trimmer on the bathroom floor as well and little plastic parts go flying everywhere.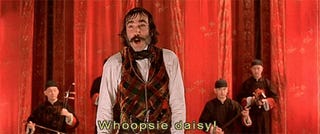 So that's two broken trimmers, two uncharged batteries, and zero hair removed. At least my head hair looks fabulous.