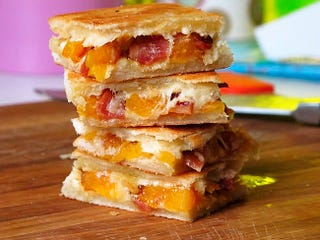 I follow Laura Werlin on Twitter, and she posted this article about the history of Velveeta. (I had no idea Velveeta Shells and Cheese were introduced in the 1970s....I totally thought it was a 90s thing for some reason.)
http://www.smithsonianmag.com/arts-culture/t…
It's quite an interesting read, and it's especially interesting to hear a cheese expert like Werlin discuss Velveeta. I was intrigued by this quote in particular:
"For those many, many people who were raised on processed cheese, there is a memory connected with it that can't be discounted in terms of its importance," Werlin says. "It's a bite of the past, and that trumps flavor every time."
I think this is largely true for me of Velveeta, but not necessarily of other childhood foods I ate. When I was young and my dad was doing his apprenticeship, we didn't have a lot of money. We ate a lot of ramen noodles (my dad called them "Dad's special noodles" and also had a song involved) and Spam and hot dogs. We also ate a lot of Velveeta grilled cheeses, and as I mentioned on Jez's post about the Velveeta shortage, my mom used to make tacos that had Velveeta on them, and I thought they were the best tacos in the world. But while I don't particularly still like ramen noodles and (I am in a privileged position in which) you couldn't pay me to eat Spam, Velveeta is still my preferred cheese for grilled cheese. And I love artisanal cheese (as some of you have seen from my Friday night cheese plates). I feel like it must have something to do with nostalgia, but I also just think there's something about butter, bread and the texture of Velveeta that really works for me. (Note: I do not enjoy eating cubes of plain, unmelted Velveeta).
Do any of you feel nostalgic about Velveeta? Are there other processed foods people judge the shit out of you for eating that you possibly enjoy due to nostalgia?