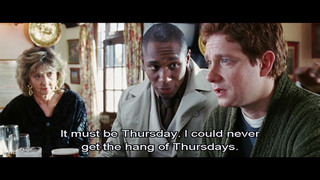 Because clearly the universe is trying to keep me from having any treats for my birthday. Last night, we went to Benihana for my birthday dinner because they had a desert that I can eat. They closed the kitchen and cleaned the fryer without telling me even though I told them that I couldn't eat the free birthday ice cream because I'm allergic to dairy. So no desert for my birthday dinner.
Today I went to Whole Foods to try to find a cake or some other desert (besides cookies) that I could eat. I told the lady at the bakery that I can't eat dairy, so she recommended the flourless chocolate cake because it's gluten-free. Flourless chocolate cake is like 1/3 butter. When I finally managed to convince her that I probably needed a vegan cake, that gluten was fine, she found two options: vegan carrot cake (allergic to carrots) and vegan German chocolate cake (allergic to coconut). I decided to buy myself some chocolate covered almonds and some cheap deli sushi, then I would get cash back and go to the coffee place for some special coffee. My card was declined.
I went home and checked my account: it had $15 and $50 in pending charges. I started crying and went to IM to vent to Cute Boy Person, who immediately came to my rescue! He ordered me some delivery BBQ and walked to the bank so he could deposit cash into my account.
Two hours later, I pinged him to ask him when he ordered BBQ because it hasn't come yet. It turns out that they had tried to call me and I hadn't picked up because I didn't recognize the number, so they cancelled my order. They sent me an email instead of texting me, even though they texted me the delivery time. Fine.
I decided to go to Walgreens to buy the Swedish fish for my costume. (They apparently only come in red, but that's no biggie.) I decided to try to find a nail art stamp as a treat but no luck. But I did get cash back, so I went to the taco place and ordered a taco. Then I walked across the street to the coffee place to get the special coffee. They were out.
They said that they could get me something else and I said nevermind. It was supposed to be a birthday treat. They said they would have more tomorrow and I could come back then. I said it won't be my birthday tomorrow.
To sum up: no desert at my birthday dinner even though we picked the restaurant for the desert. No birthday cake. No cheap birthday sushi. No delivery BBQ that I waited for 2 hours for. No birthday Blue Mountain coffee, something that I've bought myself every year for almost a decade. What the actual fuck, universe? What did I do?
I'm going to eat my taco and drink Kraken now. Apparently, the opened bottle of rum that I've been drinking for a week is my birthday treat.
ETA: Awwww you guise, guess who showed up at my house bearing dairy-free chocolate covered almonds, dairy-free chocolate-covered espresso beans, and dairy-free brownie bites. Such a good Cute Boy Person.