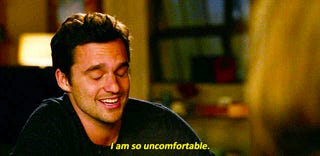 GET COMFORTABLE!
So, ladies and gentlemen, I know we played NEVER HAVE I EVER earlier...but that was earlier. Not as many people were home. Not as many people were deep into their night of drinking and/or smoking. So, have something you want to know about your fellow Groupthinkers? Have something you've secretly been dying to tell us but don't want to just come out with? LET IT OUT!
---
THE GAME:
It's like truth or dare, but there are not any dares (or if you're creative, think of dares... but they have to be respectful of your fellow Groupthinkers, not take advantage of ANYONE and involve NO TROLLS)
Ask a question. For example: Where's the weirdest place you've ever hooked up?, What's your favorite flavor of ice cream?, What's your guilty pleasure tv show that you wouldn't tell us about if you hadn't been drinking?
If you start the thread, please try to answer your own question if it applies to you. If it doesn't, ask away.
Again, if you answer and you've got a good story- let's have it!
If you answer and you think your story might be something that needs a trigger warning, that's fine, but throw that TW on there. I wish all our stories were fun and happy, but I know some of us have some serious shit as answers to these threads.
I'm just leaving an hour for this one because we've already had NEVER HAVE I EVER... but it's always nice to pry some answers out of your online friends :-D
I will see you back at 1:30 AM CST!