Do people know this REALLY IMPORTANT THING IS TODAY!?
In honor of AN INCREDIBLY IMPORTANT CULTURAL EVENT here are some gifs that express Burt, our Burt:
Lastly, if you don't know what I'm talking about...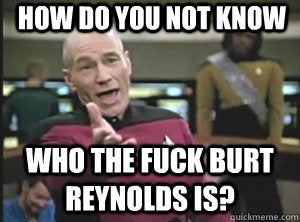 Edited to add: I have no idea if it's Burt Reynold's Is My Spirit Guide's birthday, but I've decided to assume YES BECAUSE ALIGNING PLANETS OR SOMETHING. SPIRITS. SPIRITUAL BIRTHDAY.