...for the first time since June!!!!!! I no longer have to ask Foxylocksley for money so I can buy/do things I want. Not that he hasn't been super amazing about helping me out, but I just hate asking for money from anyone.
Anyway, I went to Costco and bought all the things! Ok, not all of them. They have some weird shit there. However, I did buy enough meats and alcohol to last several weeks!! And new tupperware!! And baking trays!!
I also bought some cute shoes I saw at Goodwill while dropping off a donation!! And now I"m going to go on Amazon and buy a few books I've been wanting and a belated bday present for Foxylocksely.
I'm so excited to have money again!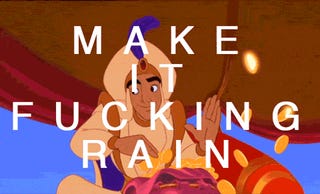 What are you all up to tonight?