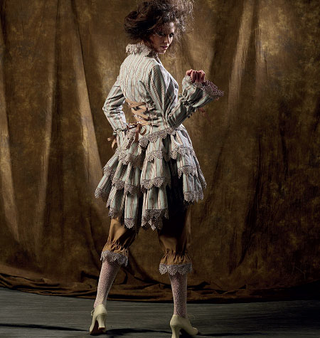 I was cruising through some sewing patterns (McCall's sales will be the end of me, someone stop me from starting more projects!) and I saw this pattern and my mind immediately went PIRATE! So, I'm going to be a pirate. I'm going for beautiful and terrifying, like, this bitch is going to cut you and then laugh about it. Oh, and Mr. Misfit is going to be the Doctor! We were thinking about it, like, what can you be that goes with a pirate, but isn't a pirate? The Doctor, obviously (although I'm jealous that I don't get to be the Doctor). He's going to be Matt Smith's Doctor since he's slim and that costume will be better on him, and he has a strange long distance love affair with suspenders (he owns no suspenders, but seems to desperately [kinda] want to be the type of person who wears suspenders).
I've never made a jacket before, I feel like costumes are always a good place to start a new skill, since it doesn't really matter if it's perfect. I'm pretty excited about this, for many reasons: I have plenty of time to start, stop, start, and stop this project and get it finished in time, AND when we realized that Halloween was going to be on a Friday this year we decided to go into the city (that's NYC for you non-tristaters) and I'm going to be warm! Warm! Celebrate that with me!
I also got these patterns to round out the whole look:
---
Frilly shirt...
---
... and assorted accessories (one can't be a proper pirate without having many little hidey holes on one's person)I want to get as many materials from the thrift store as possible for repurposing. Last weekend I discovered that my preferred thrift store has a surprising number of leather skirts (who knew?), which are better than the men's coats since there's less seaming and bigger pieces to work with.
I'm going to make a cutlass and at least one dagger. Will any places give me a hard time for having a wooden sword?
So, whatcha think? I'm looking forward to the part where I roll around in the dirt to get it nice and dirty and lived in (I hope to recreate the strange looks I got that time I smeared mud all up my legs when I was Mother Nature. Everyone knows that Mother Nature doesn't wear shooes!).