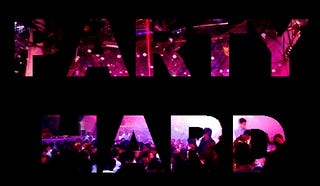 Alright, GROUPDRINKERS AND GROUPSMOKERS! Welcome to the BEST GROUPDRINK of 2013! Imagine some Jock Jams going off in the background of this post! In fact, click on the link below and LISTEN to some JOCK JAMS BELOW (straight from the sweet-ass Space Jam soundtrack)!
You MAY or MAY NOT know that I'm currently attending a Christmas Party (with an open bar)! This thread is open and going to start us off! I shall return mid-hour (full of whiskey sours)! I will be checking in via phone (though we know Kinja is a dill-hole to iPhones)!
I cannot wait to see you guys at 9 o'clock CST!
Don't forget to head over to IRC to hang out with lots of Groupthinkers, RIGHT NOW! Your username is, well, your username and the channel is #Groupthink. No password required!