This book.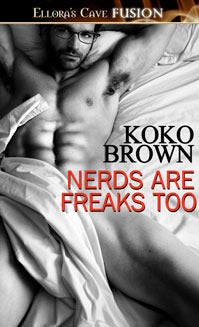 Odd cover? Check!
Interracial Romance? Check!
Nerdy? Check!
Looks smutty as fuck? Check!
Never heard of the author? AW FUCK YEAH!
Did Koko Brown write a book called Jezebel? WHAT THE FUCK, KOKO! WHY YOU IN MY HEAD?
Here's the blurb:
Roxanne is stunned when her best friend, Leo, admits his feelings for her—she's so not going there. Lovers may come and go, but true friends are hard to find. Instead, she enlists his help to sign her up for an online fetish dating site. She immediately meets a man who can help her explore her kinky side, starting with a chat session that leads to the best orgasm of her life. While her body's satisfied, her mind can't forget Leo's confession... Leo, meanwhile, isn't giving up so easily. He knows Roxanne like the back of his hand, knows what she needs, and he's more than equipped to give it to her. Subtle touches, a sexy spanking, the most erotic dessert-eating session ever... Leo is successfully proving that computer nerds can be sexual freaks too—until Roxanne discovers his secret. One that could kill not only a potential relationship, but their longtime friendship as well.