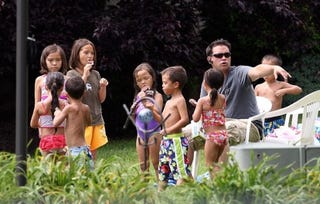 Jon Gosselin says he's going to fight for custody of his sextuplets because he feels Kate violated their custody agreement by not letting him take care of his kids when she went on a press tour with their older twins, Mady and Cara.
Jon's statement, full of facepalm:
"First, I'm going to file for an emergency petition for contempt ... The next step is to fight for custody," says Jon, who adds that he will file as soon as he saves enough money for lawyers and paperwork fees."It's the only way I can protect the younger six. Regardless of what the judge decides, I have to at least try," says Jon. "I just wish Kate would wake up, realize how she's behaving — and change her ways."
The source is In Touch, because apparently that's how the Gosselins communicate with each other now.
With that said... does anyone else think that this stinks of the usual MRA "the courts are in favor of women" and "I shouldn't have to pay child support" BS?
It's nothing explicit in the actual article, but it seems weird to suddenly demand custody, especially given his highly publicized legal battles and Kate's sudden publicity tour that she's certainly being paid for. Where would he raise the children? Apparently he currently lives in what's been described as a small cabin. Plus, honestly, if he cannot afford a lawyer, how does he expect to be able to raise six kids other than with his wife's money?