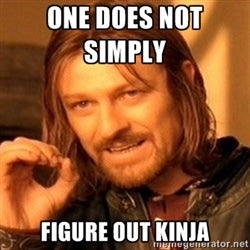 It looks like the comment nonsense from yesterday is mostly handled. Assume that happened overnight. Thanks Ernie and staff.
Also, this FireFox bug requiring hard refreshes also seems to be resolved for me. Anyone else?
There was also an issue with uploading avatars. I'm back to my rainbow self after uploading in Chrome, though I'm not sure it worked in FireFox. Anyone else succeeding in uploading a replacement avatar that's been waiting to do so?

Remember you can tweet at KinjaHelp and to check KinjaStatus to see if the issue you're experiencing is known. If you're one of the new authors, tagging a post "Kinja Help" (with the space) will often get the attention of staff for issues you're having.
And remember, there's always gifs to help relieve stress.