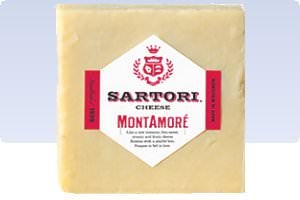 In search of nothing more than jicama and a simple, inexpensive asiago for our balsamic-vinaigrette-dressed salad to complement steaks and asparagus tonight I was thwarted. Not just by the lack of jicama, or the lack of any asiago other than pre-shredded, but also by the reminder that I can never spell vinaigrette right. Ever. Spell check is drunk because that still doesn't look right. Anyway, on to the kissing cheese!
I'd seen this little 4 oz package at the store before and always meant to Google it. Tonight I tossed it in the cart. I don't care know how much it cost (probably less than $5, we're in the hinterlands of Fooddom and all) but after one bite I was definitely Googling (because that tiny print below the name? Yeah, THAT tiny. I couldn't see shit, I just bought) because this stuff is amazing.*
My favorite review of anything, ever, resulted:
I have never experienced a cheese like this!! I demoed this product for the company I worked for. I sampled a very small piece. My mouth went crazy with the various flavors that were happening in it!! Sweet fruity buttery smooth to my pallet warming to my senses all of a sudden....the mildly sharp flavor kicked in!! It made me want to kiss my husband! I had to share what I was experiencing in my mouth! I called it the kissing cheese! As I demoed the product....it sold out before I was on the demo floor long enough to fully prepare my cart!! You have got to get this cheese!! I crave it like I'm Pregnant!!
This is THE king and queen, the Alpha and Omega of Valentine's Cheese. This is the heavy, full, pregnant "I feel like jumping my husband's ass like the wanton cheese slut I am" of cheeses. Move over, hard-to-get Dorothea, I've got a new bitch.
I'd just have been wrong not to share.
By the way, it's literally made from old-world cultures of Parmesan and cheddar, in Wisconsin, and basically goes with effing everything. Like sex. Uncle Kim is gonna be sooooooo surprised...
*Super serious note: It's like the super-aged gouda with the little calcium crystals (calciYUM), but with a taste like a subtle blend of parm & cheddar, except it doesn't taste like parm or cheddar. It's the fucking tits.