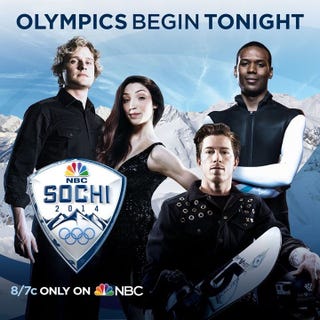 It's a horrible thing that to have coffee, I need to make coffee, but to make coffee, I should be clear headed enough not to put the coffee can in the fridge and the milk in the pantry.
So this picture was in my FB advertising first thing this morning and it just rubbed me the wrong way. Is she not as serious an athlete as the men? Am I being overly sensitive? His just seems like one of those subtle things that goes unnoticed, but reinforces that women should be pretty and nice, even if they're Olympians. Side pose, smiling, open arm stance.
Also, I heard Shaun White pulled out because the courses at Sochi are not up to standards and athletes are getting injured because of it.
In other news this morning (by news, I mean my life), the cat is going to be pissed all day because I won't let him out. Sometimes he comes back in at night, sometimes not, and I have to get him to the vet first thing tomorrow morning to inflict my feminist rage on him. So he's not getting out of sight for a while.
AND! We should be getting a pretty decent tax return so I can get a camera! I'm so excited!
On the same subject, Mr. BT's old company bought back some employee stock, but we don't know where to apply that money in TurboTax. Any suggestions?
How's your morning going?