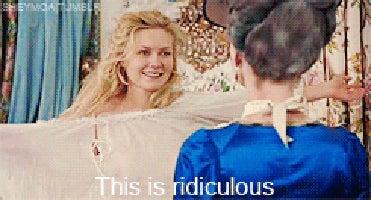 (Please don't main page!) Well, since the comment I made yesterday about the Marie Antoinette bridal shower I'm having to go to was so popular, I thought I'd do an update on the most insane wedding I've ever been a part of. It's getting crazy, guys. And expensive.
When last I ranted, this had all gone down: http://groupthink.jezebel.com/weddings-are-i… (the first post in the saga is here: http://groupthink.jezebel.com/my-friend-told…)
So, first, the actual wedding. Because the bride didn't decide on the dress she wanted all the bridesmaids to wear until last week, we couldn't get them in time from David's Bridal. The wedding is in mid November. My best friend Laura (all names changed) has also been shanghai'd into this so we went last weekend to go try on dresses. I'll never forget the look of horror on the woman in David Bridal's face when we said the wedding was in a month. The blood drained from her face.
So, we tried on dresses (and hated them). Each dress was available in January or December. None would be ready in time. I could have taken home one of the sample dresses but it was dirty, ripped, had a broken zipper. I refused to pay almost $200 for that. We texted the bride, called her a few times, and got no response. So we waited for a half hour in the store (with the pitying look of the David Bridal lady) and then left to do our own thing for the rest of the day.
Three hours later, we get a barrage of text messages from the bride, instructing us to try other dresses. She thought we were still in the store! That we had sat around waiting for her for THREE HOURS. We told her the store was closed but we'd go back tomorrow if she wanted. She started to text us dresses from department stores and told us to go try them on. We were finishing dinner at that point, like hell were we driving a half hour to the mall. When we looked at the dresses online, we discovered they were each upwards of $300 and didn't come in my size. Laura and I freak out.
Another set of frantic texts and calls later, the bride sends us both two different dresses, on sale, to just buy online and get it over with. They don't match at all, nor do they match the dresses the other girls are wearing, but whatever. Mine is especially ugly and the website even has it under "mother of the bride" dresses, so thanks for that, bride. Real confidence boost. -_- It does look like it's for 60 year old ladies while I'm in my 20s. But whatever. I buy it. It's cheaper than all the other dresses.
So, now, the bride has girls wearing five different dresses in different shades (the maid of honor has a hideous pale pink dress with feathers, four of the bridesmaids had a champagne dress with mesh netting, my friend Laura has one that is blush lace, I have mine, and another bridesmaid has one that has beading. WTF).
Onto the real fun part... the bachelorette party and bridal shower.
The maid of honor is arranging both of these events. It isn't going well. She's disorganized, bratty, and has no follow up with any questions or concerns people have. She's just steamrolling over everyone else. SHE is a bridezilla and it isn't even her wedding!
The bride apparently texted her a picture from Pinterest of a Marie Antoinette party, which is where the whole crazy idea came from. The picture is from Vogue or something, and it's a bunch of models in Marie Antoinette costumes throwing cake at each other. What an image to plan a bridal shower around.
Last week she texted us an image from a Halloween store website and said we should buy it. It is the SLUTTIEST Marie Antoinette costume I've ever seen. It has thigh-highs and a peek-a-boo corset. It's basically slutty Marie Antoinette in a bag.
Those two costumes aren't it, but are very much like it.
I got that text at midnight, after being asleep for an hour. I was so angry to have been woken up and so angry that she wanted us to buy and wear THAT that I had to say something. I reminded her that this was a BRIDAL SHOWER and not a HALLOWEEN PARTY. I said it was inappropriate for a bridal shower, especially when the bride and groom's grandparents and other family members would be there. What would the guests think?
The maid of honor had a HISSY FIT about my refusal. I was getting ten text messages a second as she ranted about how we all had to do this for the bride and it was selfish to refuse, how it would look stupid if only half of the bridal party "committed" to the theme and the other half didn't. She said it was a free country and I could do whatever I wanted, but sent the pinterest picture again and said that is what the bride wanted. I asked if the bride had mentioned costumes and she didn't answer me. Part of me thinks that was the maid of honor's own idea.
I said I would not be in costume and that the party would still be fun anyway. I then turned my phone off because I was still getting an insane amount of texts every second. The other bridesmaids were silent as this went down. I was the first to raise dissent.
The next day, the maid of honor starts texting a crap ton again, talking about the bridal shower again. She says she's booked a photographer and a silhouette artist. My friend Laura asked her how much we all owed her and where to send her a check. The maid of honor didn't give us a total, no matter how many times we asked. She just told us to bring cash the day of. Gee, thanks. That isn't shady at ALL. And how can we bring cash if we don't know how much to bring in the first place? Early estimates she emailed us a few weeks ago said it would be $100 per person for both, which I think is insane, but who am I? I still don't know why the BRIDAL SHOWER needs a professional photographer, especially since the bride requested no gifts and just payment to her honeymoon fund instead.
Ah, and the honeymoon fund. Nothing under $75. The happy couple is making their friends and family pay for a 12 day cruise through the French and Italian Riviera. We have the honor of paying for their beach passes, their hotel rooms, their gondola rides... what an honor.
So, with gift, the bridal shower is already almost $200 (plus a few bottles of wine we were all told to bring and "decorate").
Then the maid of honor started talking about the bachelorette party. When she asked for ideas a week or two ago, I suggested we take the bride out to one of her favorite fancy French restaurants (see, theme!) and afterwards take her out to a lounge for drinks. Simple. Easy. Done. But no, the maid of honor said it was "boring" and we needed an "activity". Thus, she came up with... cooking classes.
The maid of honor wants us to go into NYC at noon for a four hour "sexy" cooking class. The cost? Just a measly $150. My eyes nearly burst out of my sockets when I saw that. The other bridesmaids all said what a great idea it was, while me and my friend Laura were appalled. The GALL of this woman to suggest $150 cooking classes. And the next day is the bridal shower, so the entire weekend could cost me upwards of $400 (plus my travel costs since I live on the whole other side of the state)!
The other "less fun" (according to the maid of honor) options include a burlesque show in NYC (price unknown), $80 per person tarot readings, a "naked musical" in NYC and other such INSANITY. This event is in TWO WEEKS. Why can't we just do dinner and drinks?!
I haven't replied to that yet, but I'm thinking of emailing the maid of honor and telling her I just can not afford the bachelorette party. I am besides myself over this bullshit. How can someone expect people to just throw $150 away on cooking classes? And I've never heard of such a thing for a bachelorette party. Way to enforce gender roles. Plus, I can't cook! What a waste. Also, what cooking class costs almost $1,400?!?!?! (nine bridesmaids, plus the bride, who we'd all pay for).
So, that's where things stand with this insane shitshow of a wedding. Thanks for letting me rant. I have to go lay down with some Advil, my head is pounding from stress over this.