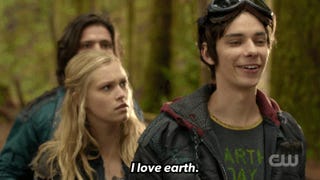 I am seriously enjoying The 100. I know it's flawed, but I forgive its flaws because...I don't even know why. Let's figure this out. (spoilerish. spoiler-y. in, you know, vague-like, spoilerific ways.)
.
Cons:
The black guy dies first.
The Asian kid is the tech guy. Who later disappears. Who is also not interested in any of the women on the show. (Or men, I think.) Why is this happening again??
What happened to Kelly Hu???? Where did she go?
The Earth:Moon ratio is wayyyyy off. If the moon is that big when you're that close to Earth, you've got bigger problems to worry about than nuclear radiation.
The cast's habit of quoting Bill Paxton in Aliens:
A love triangle. So obvious to build conflict. So boring as a story choice.
I feel like the parents had a secret love triangle of some kind. I can find no proof of it, but I feel like it will show up someday. And that will be lazy of the writers.
The clothing distressing is hilaaaarious. And only made more obvious in full sunlight. It is stylishly tattered, more than well-worn.
.
Pros:
The way they set up a very dark world. Commit a crime of any kind, and be put to death. Doesn't get much darker.
Little girl murderer. (I guess it does get darker.)
It could just be Lord of the Flies, and it is but it isn't, at the same time.
Women with men's names. I like this future, where women have names like Clarke & Nigel & Keenan.
The surprises. I adore the surprises. And there are a lot of them. They set things up to go in one direction, and then kill it dead with fire.
The occupants of a love triangle's reactions to it: cut ties...reject it...screw the other guy. They let love triangles survive for a little while, and then weaken. It's not drawn out like others (Red Band Society, I'm looking at you. I love you, but check yourself).
The costumes have creative moments. I adore the shoulder pad reinforcement thingys. And I sort of love Octavia's top she wears to the dance, so help me.
Bellamy is the new Sawyer (Lost), but different.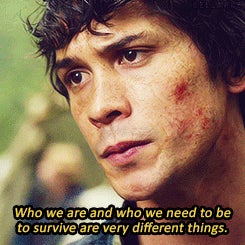 .
.
.
.
.
.
.
.
Clarke is the new Ralph (LotF). She knows she's not the expert, but she also feels responsible for these people. She's the voice of reason. She's also a teenage girl who's love interest has a surprise girlfriend, which makes her a leader we haven't seen before. Her "I don't have time for this bullshit," reaction when the GF shows up is still one of my favorite character choices on the show.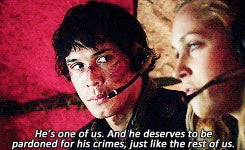 .
.
The Little Sister who's spent her life in a cell just for existing.
.
Little Sister's Townie Boyfriend:
The relationships among the leads. I love the way they interact. Everybody plays the quiet moments really well, and they don't overplay the loud ones.
Quick surprises, like two-faced deer. Most of the effects are pretty well-done, too.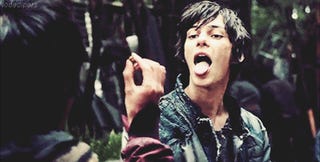 Episodic plot diversions—eg, psychotropic beans; little blind girl and her dad; et al.
Deathly pale cave-people. Such a great touch, so often overlooked. But then, they shoot in Vancouver, don't they? Much easier to do there than in Los Angeles.
The cast's habit of quoting Bill Paxton in Aliens:
Yeah, I sort of love it.
So....
The pros outweigh the cons. And the cons aren't fatal flaws. Just when I start to think I see the pattern, and where the show/characters/plot are going, it takes a hard left, and goes someplace else, never losing its footing. That's admirable.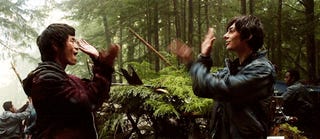 Have you seen it? Am I wrong? If you haven't seen it, give it a shot. Season 1 is streaming on Netflix, and season 2 is/will be on Hulu in the US.