I'm obsessed with the red cape that was on mainpage and it reminded me a bit of Lupita's Golden Globes dress: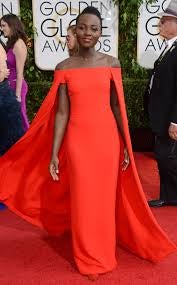 And yes, I know that we are all aware of how she looked that day, but WE CAN NEVER GET TOO MUCH LUPITA. My roommate was complaining about how she was in one movie and she'll fade into obscurity and we'll forget who she is and I was just all BITCH, EVEN IF LUPITA WASN'T IN A MOVIE, SHE STILL DESERVES TO BE EVERYWHERE.
I also now want to see Lupita in that red cape. I also want a cape like that. SO BADLY. Do you think I can wear it into court and twirl it around like a matador and then be all I REST MY CASE. THE CAPE CAN'T BE WRONG.
Mayati, maybe when we start (hehe, I initially wrote shart) Mayati and Shiny: Badasses at Law LLP, capes can be our signature look.